VISION HD 1S
To use the service you must be of legal age
More Information
Sunglasses
Material
Plastica iniettata
insured and guaranteed shipments
secure payment with paypal
free return
Design
Wrap-around and super performing: here is the new NAU! VISION HD model, designed and created for the most demanding sportsmen in order to have a high definition vision during all land or water sports, always in strong sunlight and high reflection conditions.
The wrap-around design, combined with revolutionary HD lenses, guarantee:
• an ergonomic fit which perfectly adheres to the face during dynamic activities ensuring good wearing stability; • complete eye protection from solar radiation, wind and dust, even on the lateral areas;
• high definition vision, thanks to HD lenses, with which it is made: greater precision in the perception of real colors, a more natural and correct vision of the environment and surrounding objects and speed in identifying colors by the eye;
• high impact and scratches resistance;
• internal anti fog, thanks to ventilation holes positioned on the top of the lens;
• high salt resistance, thanks to the "Marine Phobic" treatment, which protect lens' surfaces keeping them shiny for a long time and avoiding opacification due to prolonged use at sea and/or in extreme conditions.
Colour
C1, C2, C6 - Beach & Water
Beach volley, sailing, boating, fishing
C3 - Outdoor & Green
Golf, trekking
C4, C5 - Running & Ciclying
Running, cycling and outdoor movement activities
Sports eyewear for an HD vision.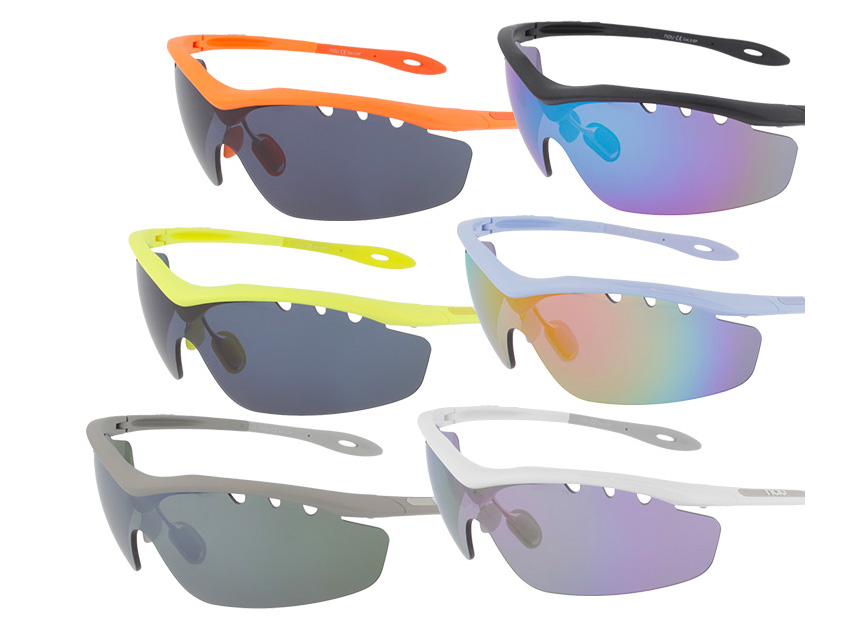 We found other products you might like!