Guide to NAU! Lenses
Tailor-made on you and your eyes
OPTIONAL NAU!
ALL THE OPTIONAL FOR YOUR NAU! LENSES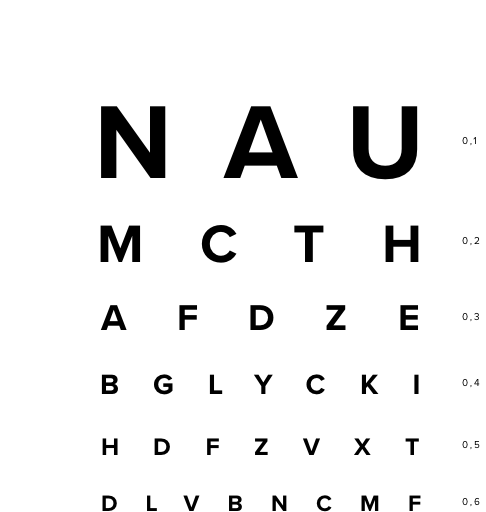 ANTI-REFLECTIVE TREATMENT
With anti-reflective treatment the lens surface is coated with totally invisible metal substances that can eliminate reflection and glare from the surface of the lens. Anti-reflective lenses are coated with hardening, water-repellent and anti-static substances.
BENEFIT?
High vision clarity through the lens. Improved lens transparency: eyes are seen in their natural state. Simpler lens cleaning, thanks to the water-repellent and anti-static particulates that repel dust and dirt.
Maggiore resistenza ai graffi.
Better scratch resistance.
UV protection.
TINTING
The lens is tinted by deeping in special substances with coloured pigments.
BENEFIT?
Sunwear lenses guarantee you with better vision comfort in the sun and give you the opportunity of wearing prescription sunglasses inspired by the latest fashion trends or in the desired colour.
To provide you with optimal UV protection we recommend that you ask for UV treatment too.
PHOTOCHROMIC LENSES
These lenses darken automatically when exposed to UV rays and lighten in a few instants in an environment with lower ultraviolet light. The process takes place because the external surface of the lens is treated with a special clear varnish containing UV light-sensitive micro cells. When these particles are touched by UV rays, they activate and darken the lens. When UV rays decrease, the lens gradually lightens and becomes clear again.
BENEFIT?
Photochromic lenses protect from UV rays. Convenience of wearing just one pair of glasses that adapts to the light conditions outside. It is worth remembering that photochromic lenses do not replace sunglasses lenses.
UV TREATMENT
UV treatment consists of applying a special clear varnish to the lens that blocks ultraviolet rays from lens to the eye. UV lens treatment is highly recommended in prescription sunwear.
BENEFIT?
100 per cent protection from UV rays particularly harmful to the eyesight.
POLARIZED LENSES
All surfaces that reflect sunlight (snow, water, asphalt roads) act like a mirror, increasing the intensity of glare. Polarized lenses are designed to eliminate this issue. These lenses can select the sun radiation so as to reduce the intensity of light reaching your eyes. In this way images are perceived more clearly.
BENEFIT?
Improved quality of vision and comfort. Total eye protection against UV rays particularly harmful to your eyesight.